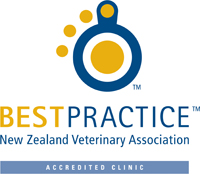 Hauraki Vets is a "Best" Practice Accredited practice, and have been since 2005. The NZ Veterinary Association's BESTPRACTICE scheme is a voluntary accreditation programme for veterinary clinical practices in New Zealand that promotes a high standard of professionalism and service. Hauraki Vets has passed both the large animal and companion animal standards.
The standards encourage the ongoing critical evaluation of the practice's surgical, medical, diagnostic and nursing protocols in order to maintain a high level of excellence. There is a strong emphasis on compliance with current New Zealand legislation as it affects veterinary practices and NZVA policy. Practices are audited by an independent auditor every two years.
In practical terms:
For pet owners you know this vet clinic will give your pet consistently high care for things like anaesthesia, pain relief, vaccination protocols, isolation facilities for infectious diseases, continuing education for our vets and medicines we supply. What we lack in size and equipment we make up for with human time and dedication.
For farmers you know you will receive vets who are evidence based and up to date with latest information combined with a reliable quick service. For medicines you purchase there are appropriate systems in place to assure you these medicines have been stored and dispensed correctly so they will work as expected and so you can meet your own compliance obligations.