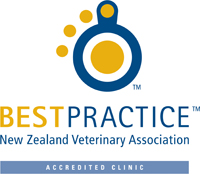 Hauraki Vets is a "Best" Practice Accredited practice, and have been since 2005.
Welcome to Hauraki Vets
Welcome to Hauraki Veterinary Services (Hauraki Vets), the only locally owned and operated veterinary service in the Hauraki – Thames district. We hope you find this site friendly and helpful and encourage you to contact us if you require any of the services we provide.
Hauraki Vets is a privately owned mixed veterinary practice. Owners Peter Marshall and Natalie Rangihika have a desire to provide our farmers with a veterinary service which is evidence based, unbiased and reliable. For our companion animal clients, we provide a high level of vet care with diagnostic and full surgical facilities at both Ngatea and Thames Clinics. We believe we are partners in profit with our farmers and partners in pet care for your companion animals.
Hauraki Vets takes pride in employing good people, giving them time to do their job properly and encouraging our vets to continually develop and expand their knowledge. We believe by being knowledgeable science based vets it allows us to make informed recommendations which aide your decision making. We combine this with personal customer care to provide you with a premium veterinary service.
We are situated in both NGATEA and THAMES: Providing 24 Hours Veterinary Service
NGATEA Veterinary Clinic: 87 Orchard West Road in Ngatea (07 8677056) for Large Animal and Companion animal services. We have a large show room with a wide range of animal health products.
THAMES Veterinary Clinic: 309a Pollen Street, Thames (07 8683013) for Companion animal services. In Thames we have a comprehensive Pet Shop and provide Large Animal supplies.